Build Your Career At
Black & McDonald
You believe that if something's worth doing, it's worth doing right. That solutions should be made to last. That being part of a team means working not just for oneself but for one another. That's how we operate too. At Black & McDonald, we're on a mission to do work and build relationships that stand the test of time.
In keeping with this mission, we are committed to being an employer that enhances and enriches the lives of our employees by providing them access to diverse, high-quality projects and endless opportunities to leave their mark on an exciting industry.
We are strongly committed to advancing diversity in our company and fostering an equitable and inclusive workplace culture, thereby enabling and empowering all people to fully participate, to reach their potential, and to contribute to the success and welfare of the Black & McDonald community.
Why Black & McDonald
A career at Black & McDonald will provide you the opportunity to apply your knowledge to an industry that's making a positive difference in today's community, and is building a bright future for generations to come.
Our values passed down by our founder have stood the test of time for more than 100 years, and they continue to make Black & McDonald employees feel like work is more than just about earning a living – it's about feeling like home.
Don't just take our word for it – see what our employees have to say!
B&M Centennial Scholarships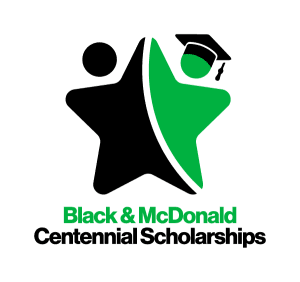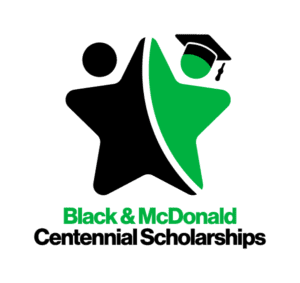 As part of our centennial celebrations and our commitment to our family of employees, we are pleased to launch our new B&M Centennial Scholarships.
Apply now at: blackandmcdonaldscholarships.com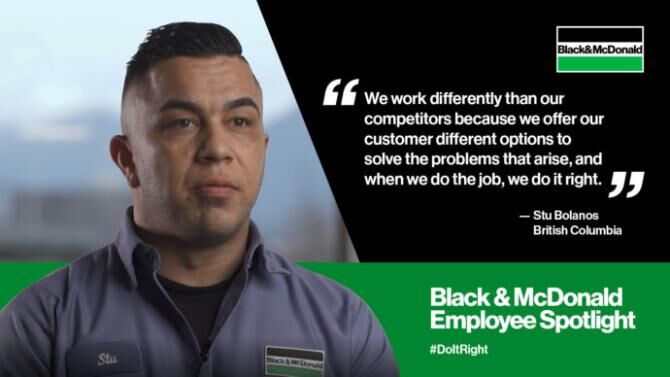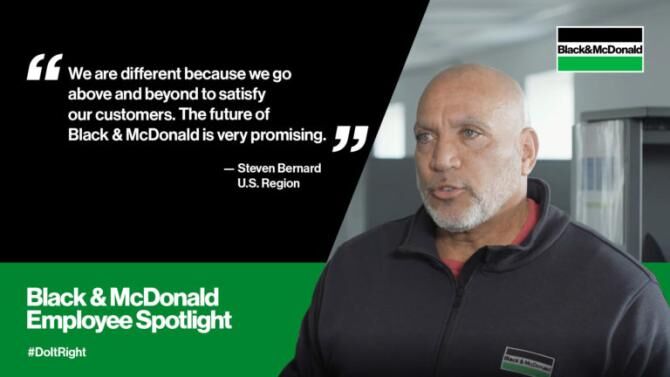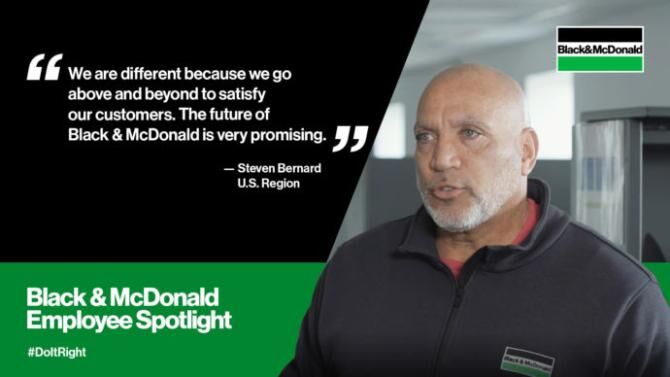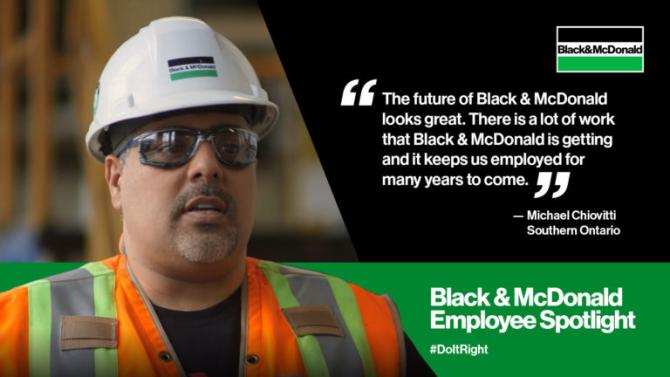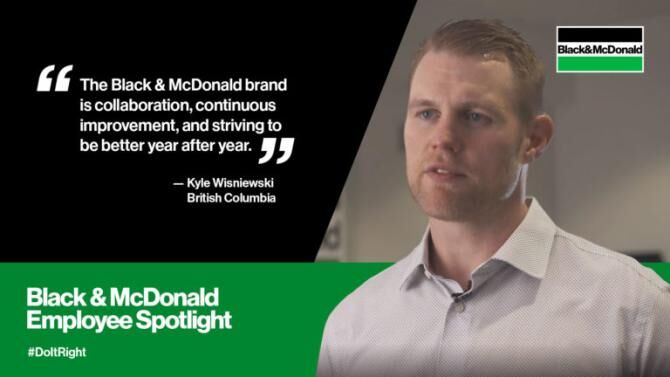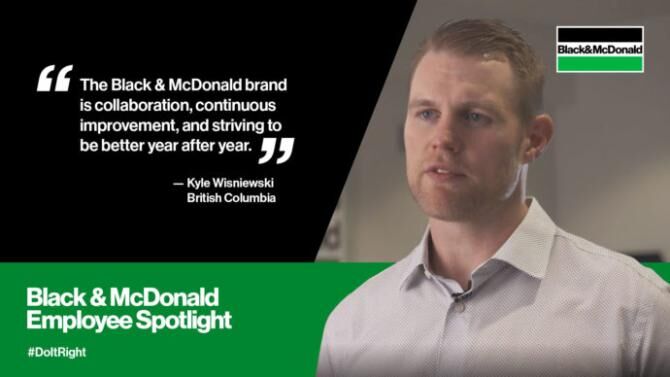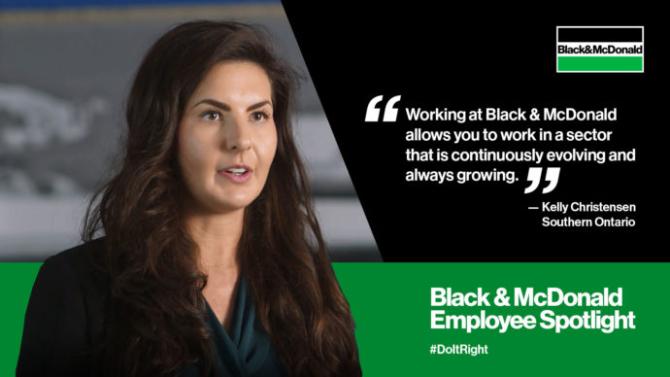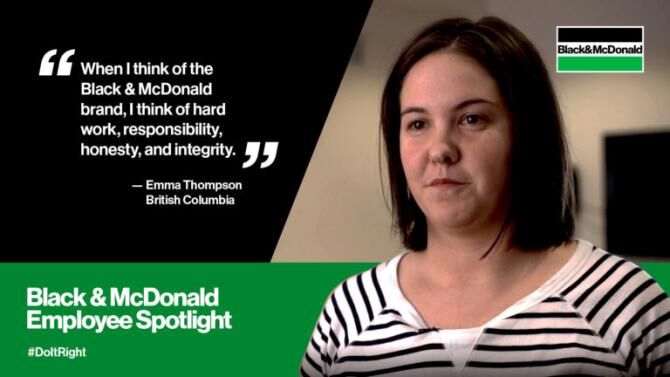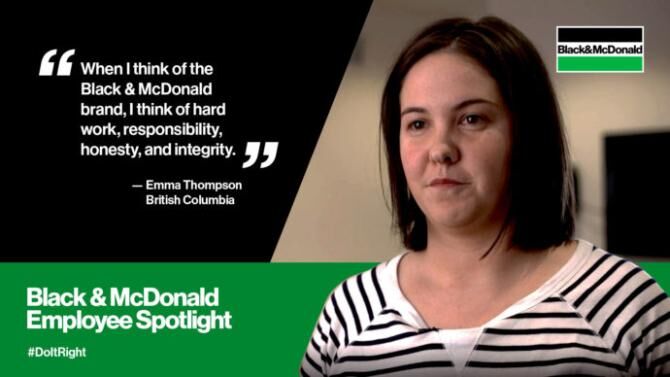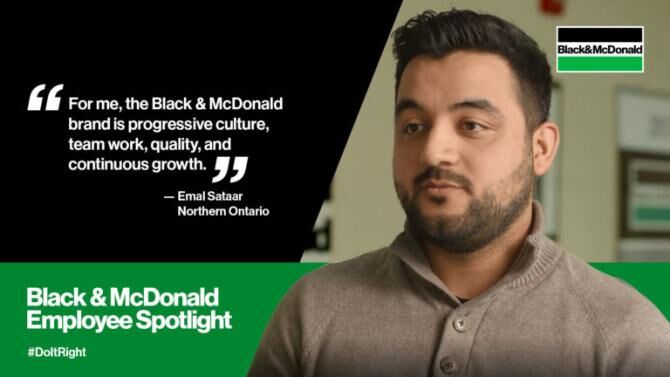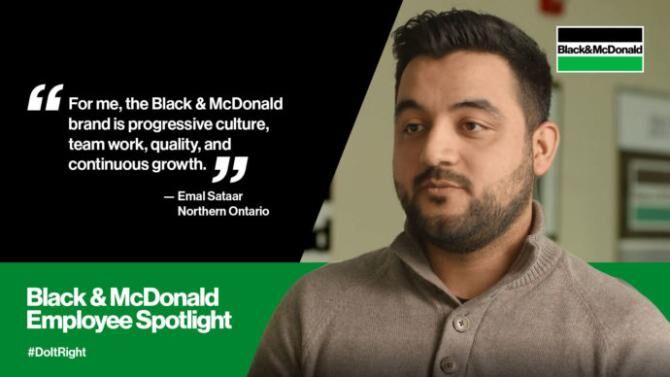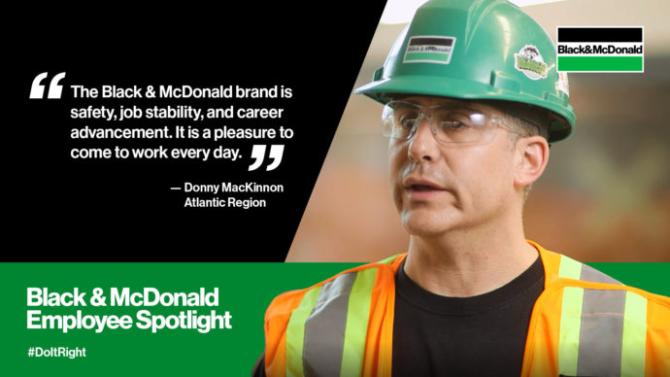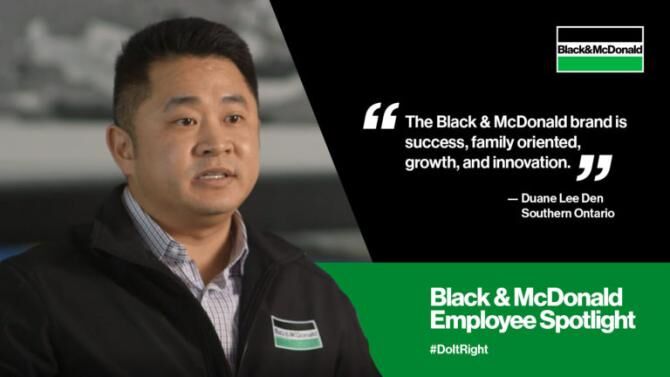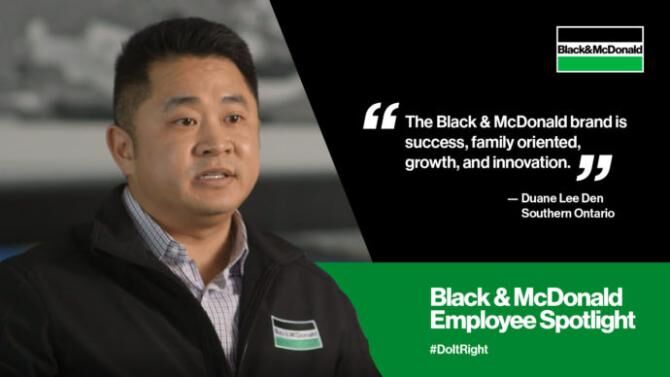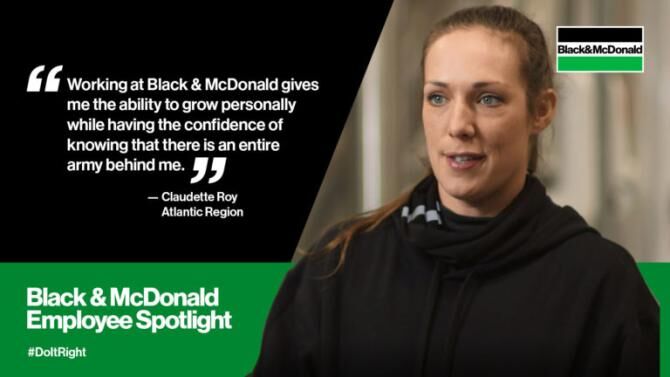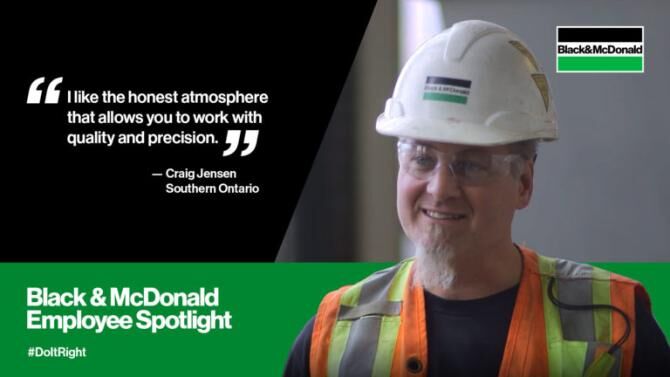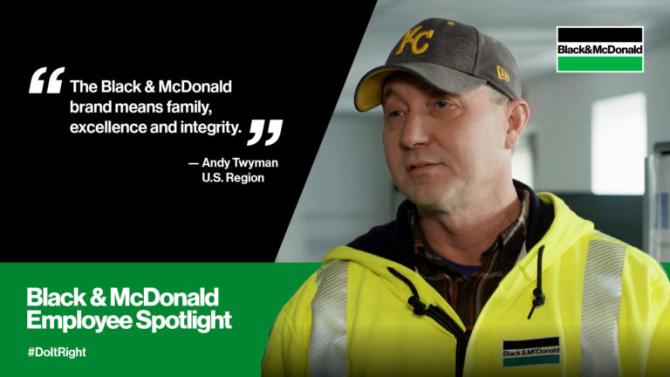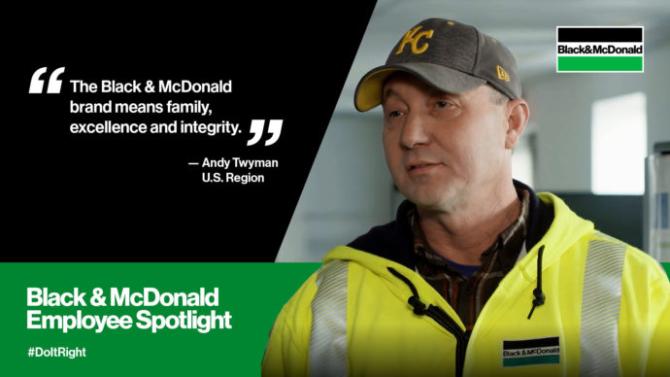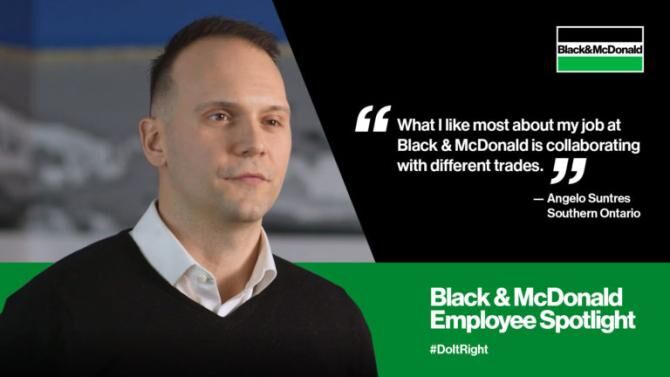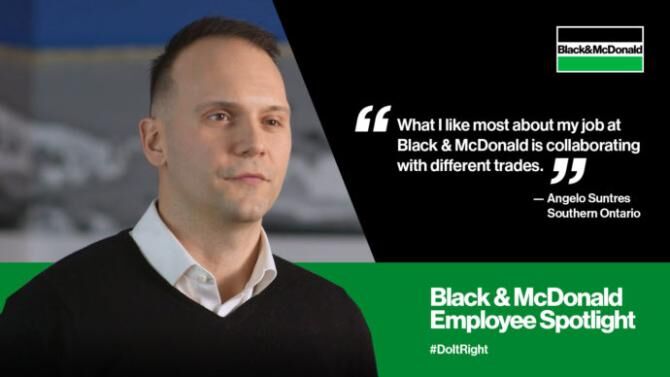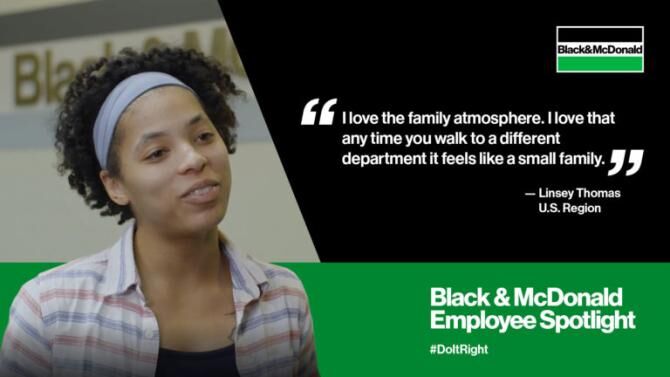 Our Employer Value Proposition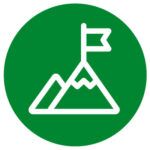 Pillar One: One Company with Endless Opportunities
At Black & McDonald, we choose to do meaningful work that literally transforms the world we live in. We're constantly growing, and we depend on every member of our talented teams to get us there. We strive to provide our people with endless opportunities to learn, grow and leave their mark on an exciting industry. If you're interested in steady, long-term access to high-quality projects across Canada, the U.S. and beyond, look no further.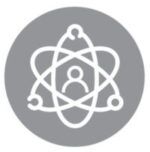 Pillar Two: A Family Business with Family Values
Our people are the heart of our family-based business. At Black & McDonald, you will experience a connection to everyone, from your co-workers to your customers to the owners of the company – and can feel good knowing that respect, integrity and loyalty are the cornerstones of our culture. It's our privilege to offer a workplace that empowers our people to be the best versions of themselves. Whether you've been with us for 20 years or it's your second day on the job, you're one of the family.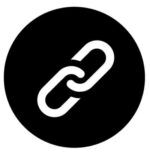 Pillar Three: Empowered People with Ambitious Goals
We support all our talented professionals and tradespeople with an entrepreneurial spirit to bring their innovative ideas to life. Have an interesting approach to our work? We want to hear about it. Looking for more responsibility? We'd love to provide it. Itching to take your career in a new direction? Make a strong case and let's make it happen. We aim to empower our people to drive solutions and exceed stakeholder expectations. Shape your long-term career goals in any direction you choose – we're behind you all the way.
Career Opportunities
We are committed to being an employer that enhances and enriches the lives of our employees by providing them access to diverse, high-quality projects and endless opportunities to leave their mark on an exciting industry.
Company Reviews
Company is very customer focused, and trains its employees in all aspects of career development. Great benefits and wages. Excellent company to work for.
Very enjoyable and well-managed company. Professional standards with a mindset towards training and improving in all aspects of the construction and maintenance fields.
Black & McDonald doesn't just say they care, they do care. They care about your development and they hold true to their Code of Business that "a deal is a good one only when it is good for both parties."
Good company, good people to work with, and lots of opportunities for growth and employee appreciation.
Great company that encourages growth. Great experience working here.
People around you at work are more than willing to help you learn if you show them that you are interested.
Black & McDonald is an excellent company to work for as they have a strong and helpful team that works very well together. They encourage personal development and growth within the organization without putting pressure on people. There are numerous incentive programs that encourage individuals to have their say in the work place anonymously or otherwise.